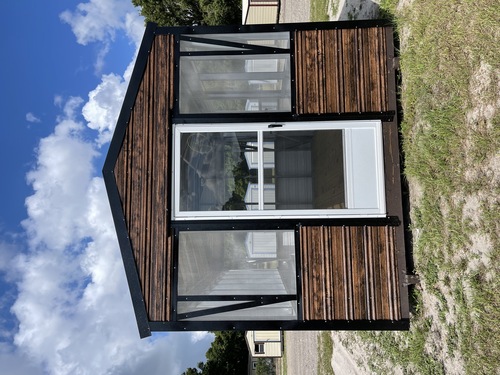 Specs:
Serial Number: FMY1117
Size: 10X16
Width: 10
Length: 16
Price: CONTACT FOR PRICING
Doors Type: 2- 42" STORM DOOR
Electric: 1 LIGHT & 1 PLUG
Style: NEW TYPE EVE
Frame Type: STEEL STUD
Roof Color: SILVER
Siding Color: BROWN TIMBERTONE
Siding Type: TWIN RIB
Trim Color: BLACK

Location Information:
Tampa Sheds - Lakeland
4298 FL-60 West
Mulberry, FL 33860
Phone: (863) 425-0429

Disclaimer:
Legal Disclaimer: While Tampa Sheds makes every effort to present accurate and reliable information on this website, Tampa Sheds does not endorse, approve, or certify such information, nor does it guarantee the accuracy, completeness, efficacy, or timeliness of such information. (IF APPLICABLE) Sales Tax, additional delivery fees, other Governmental fees, and/or any other applicable fees or taxes may be additional to the advertised price. Prices are subject to change at any time without prior notice. Be aware that Tampa Sheds may not immediately remove sold products from online listings Shoppers have the sole responsibility to contact a Tampa Sheds' dealer to verify all product information, including product availability, pricing, and condition. Tampa sheds and its affiliates are not responsible for typographical errors or misprints regarding any information provided on this website. It is the sole responsibility of the Purchaser to confirm that the products purchased meet any and all requirements to be legally placed and installed at their delivery site. Tampa sheds and or its affiliates will not be responsible for setbacks, covenants, permits, deed restrictions, and/or any other applicable restrictions that may be in place at the location of delivery. All listed sizes are nominal. "Meet or Beat" terms are at the discretion of the dealer.