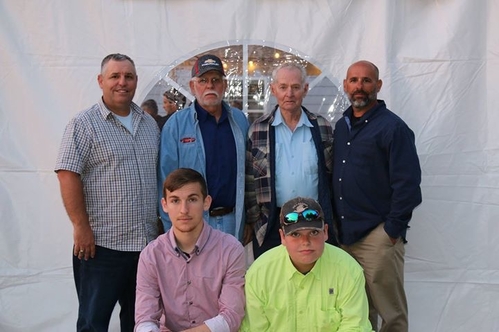 The Tampa Sheds Family of dealerships began in 1976 with one location Pope's Utility Buildings, at the corner of Martin Luther King Blvd, known as Buffalo Ave at that time, and Orient Rd. Ulmer and Rebecca Pope started their humble small business with only a few silver pipe frame storage units for sale and grew it into the largest dealership in the Greater Tampa Bay area. At the time they began, no one in the local industry offered the option of blocking and anchoring a storage shed. Mr. Pope knew it was the right way to serve his customers so from day one he included this service as part of the sale. In just a few short years the word got out that they were the standard in the industry. They became so busy, their Daughter and son-in-law, Brenda & Lloyd Langston opened their own location in Dover ( Plant City Area ) Langston's Utility Buildings, and it took off as well. Since that time we have added two more locations Mulberry and Port Charlotte. Mr. and Mrs. Pope retired in 1994 and their Grandson Mike took over the day-to-day operations for two of the locations Tampa and Port Charlotte, and in 2014 Brenda & Lloyd retired, and their son Eric took over the operations of their two locations. Mike and Eric have worked in the family business from their teenage years and together have over 60 years of experience in the storage shed business. They continue to operate on the principles their Grandparents and parents started the business with, that if they serve the customer with excellence, and treat people the way you would want to be treated, everything else will take care of itself. This way of conducting business has created a level of customer loyalty and success that has allowed the business to thrive for over 40 years. Their families are very grateful to the Tampa Bay community for their support and trust over so many years and they look forward to many more years as the 3rd generation of the family is now beginning to serve in the business. They appreciate you taking the time to read their story and considering them to meet your storage needs.
Our mission at Tampa Sheds is to provide our customers with top-quality storage products at competitive prices with a level of service that exceeds their expectations. Our friendly, knowledgeable, and professional staff are committed to helping problem-solve the needs of our customers in an effort to enable them to purchase the product that best suits their use.
Hand-Built to Last
Our sheds, gazebos, and carports are built to last with exquisite details that make a gorgeous addition to any home.
Delivered Fully Assembled and Ready to Use
Tampa Sheds dealers deliver sheds and gazebos fully assembled and ready to use the same day. This enables us to provide better quality, at less cost than most of our competitors.
Service You Can Count On
Family-owned and operated, We are committed to providing you the best service possible. Have questions? We are ready to help you find the best solution for your needs.
See Our Products Before You Buy
We keep a variety of sheds, gazebos, and carports on display at our 4 locations. Our sheds are always open, so feel free to take a look inside.
Warranty
We service what we sell! All our backyard structures come with complete limited warranties as provided by their manufacturers (see each item for their specific warranty ) . Remember, a product and its warranty are only as good as the company that offers it. Our manufacturers and their suppliers are some of the best in the industry.
On-Site Placement
Not sure where your new shed or gazebo will look best in your yard or garden? Need help deciding colors, styles, or sizing options that will match your yard decor? Our trained sales staff will be happy to assist you. All they need is a basic survey of your property to answer most of your placement questions.
Want to know more?
Call any of our 4 locations to talk with our knowledgeable staff about your individual needs.